Website Statistics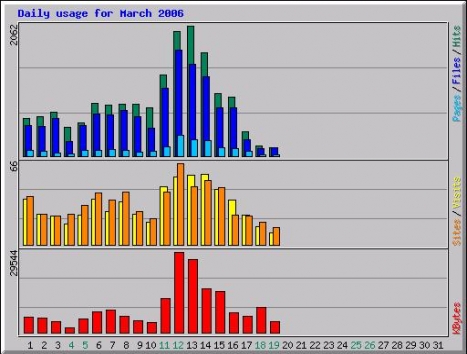 Not only is it important to be able to make changes to your website to keep it current, it is also important to keep track of how things are going, how successful your website is and what people are using it for.
It becomes even more important when you start to dedicate time and money into marketing your website.
You can see exactly how many people are visiting your website each day and if you website marketing is working.
What type of website statistics can you get
The most common type of website traffic statistics include how many unique visitors you have coming to your website, how many of these visitors are visiting for the first time and how many have been to your website before.
You can also learn about your visitors landing pages (the first page they came to at your website), it isn't always the home page, and exit pages (the last one they looked at). Remember that Search Engines regularly index websites and often a page within your website will come up in search results if it has been optimised for maximum keyword traffic (see Search Engine Optimisation in the knowledge section)
Website traffic statistics can tell you how well your Google Adwords advertising is working as well as you can find out which search engine is sending you the most traffic.
If you have a lot of files that you want people to have access to (like our training exercise files and videos) then you can also see how much workload there is on the web server from your website statistics window, by finding out the total size of files that are downloaded each day/month/year.
There are also several different website statistic programs you can use and they all come free with your 123ezy website hosting account. These include Webaliser and Awstats (these are our favourite)
If you are really technical and you'd like the raw files for your website statistics then these too are also available.
Order
If you like what you see so far and you'd like to order your own 123ezy website, then click here or go to our Orders page.